Rugby League World Cup qualifying kicks off
The race to fill the two remaining spots in the 2013 World Cup gets under way this weekend with fixtures as far apart as Philadelphia and Padova.
Russia player-coach Eduard Ososkov knows his side will be battling against the odds when they take on a star-studded Italian team in the opening game of the European zone qualifiers in Padova on Saturday.
The Azzuri will be led by former Australia Test full-back Anthony Minichiello, while more NRL experience is provided by Cameron Ciraldo, of Newcastle Knights, and North Queensland's Joel Riethmuller.
Ex-Salford forward Carlo Napolitano, coach of Italy, said: "This is the strongest Italy side I have coached. I think it is better than the one that beat Wales last year.
"We had a strong squad in 1999 when myself and Mini (Minichiello) played and we beat France in Carcassonne. But I think the boys from the NRL will raise the bar for the others in the squad."
A change in administration of rugby league in Russia, who played in the 2000 World Cup, means they will be an unknown quantity in the group which also contains Lebanon and Serbia.
"This will be our first experience against professional players and we are yet to see how our men express themselves. We will know better after the first match," said Ososkov.
Lebanon meet Serbia in Tripoli on Sunday in the other European group game, while USA kick off the Atlantic zone qualifying series against South Africa in Philadelphia on Saturday.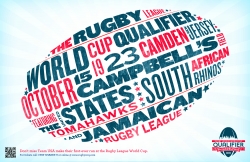 The Tomahawks' squad contains a blend of domestic and overseas-based players, including four survivors from their attempt to qualify for the 2008 World Cup in Curtis Cunz, David Marando, Mark Cantoni and ex-Wakefield winger Matty Petersen.
Jamaica, the other team in the Atlantic group, are in action on Wednesday against South Africa before taking on the Tomahawks on Sunday week.
Copyright © 2011 The Press Association. All rights reserved.
Source: http://www.google.com/hostednews/ukpress/article/ALeqM5hU1E5QaVBvR7lr9_pOkNuXJAwmhw?docId=N0067891318582944894A