Australia Day in Philadelphia 2013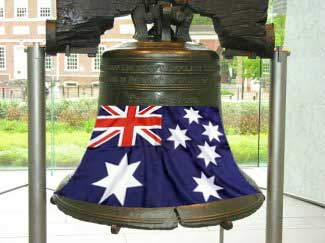 What better way to warm up in the middle of winter than gathering around a couple of warm meat pies with a few mates? Well we don't know so that what we're intending to do come January 26th.
We are heading again this year to Con Murphy's on the Parkway and 17th St for a bit of a knees-up replete with promises of pies, sausage rolls, beers (rumour has it that it's not just Fosters) plenty of Aussie tunes and of course familiar and not-so-familiar faces.
Aussie Day just so happens to fall on a Saturday this year so we're actually meeting up on the 26th and will be there from 2pm to 6pm. Also keep in mind that you're going to have to let your boss know that Monday 28th is the observed holiday and you won't be coming in (we're pretty sure it's the law).
Again, technically no need to RSVP but would be a good idea to let everyone know you're planning on coming by letting us know on Facebook.
Also don't forget to grab your official Aussie Day uniform. The Dan Milbourne Oz day t-shirt's literally fly off the shelves so make sure to get in early.