Aussie Day Celebrations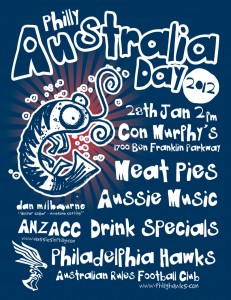 Yep it's that time of year again folks where we dust off the driza-bone and akubra, get out the wallabies jersey or pick up a Dan Milbourne special edition t-shirt for this years Australia Day celebrations in Philly. We're going for a little more space this year and have secured Con Murphys for the event which is conveniently located on the Parkway at 17th St which you can check out here. It's connected to the Windsor Hotel and a pretty top spot to hang out.
So bring the loved ones, a few mates, the billy lids if need be and an appetite for meat pies, sausage rolls and some friendly banter. There should be a few good tunes, probably a raffle, some prizes and apparently something called "Down Under" beer. Fair dinkum. No need to RSVP, just a cooee out your window should do it. See you there.
DATE: Saturday January 28th, 2012
TIME: 2pm – 5pm
SPOT: Con Murphys – 1700 Benjamin Franklin Parkway