2011 Collegiate Rugby Sevens Championship, June 4-5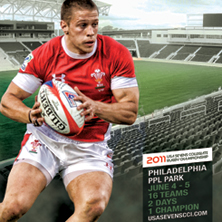 The second-ever USA 7's Collegiate Rugby Championship, a Rugby Sevens World Cup-style tournament featuring 16 top-tier collegiate rugby teams, will be held at PPL Park in Chester, PA, on both Saturday, June 4 and Sunday, June 5. The tournament will be broadcast nationally on NBC live on both days.
"We are excited that NBC Sports is bringing the Collegiate Rugby Championship to Chester in 2011," said Mayor Wendell N. Butler, Jr. "Not only does this mean more jobs for Chester residents, but it also allows for a whole new set of fans and viewers to experience PPL Park and Chester's fine waterfront, our historic birthplace."
"PPL Park continues to draw the attention and interest of a wide range of events and now in partnership with the USA 7's Collegiate Rugby Championship, we are bringing the great sport of rugby for fans to enjoy right here to the greater Philadelphia region," said Nick Sakiewicz, CEO & Operating Partner of Keystone Sports and Entertainment.
Rugby Sevens will be an Olympic sport starting in 2016 and the USA 7's Collegiate Rugby Championship offers fans a preview of the talent pool available for the U.S. Olympic team.
"International sports fans have always supported rugby with an ardent fervor and we hope the fans of Philadelphia will similarly embrace it," said Jon Miller, Executive Vice President of NBC Sports. "We have high hopes that the Collegiate Rugby Championship and the sport itself will become part of the fabric of the city and the region."
Tickets, fixtures and more at http://www.usasevenscci.com
The USA 7's Collegiate Rugby Championship features 16 Division I collegiate traditional powers, including; Temple, Penn State, Notre Dame, Army, Navy, Cal and defending champs Utah.