U.S Open winner Stosur & Hurdling World Champ Pearson return to Gold Coast
HUNDREDS of Gold Coasters have watched on as local sporting heroes Samantha Stosur and Sally Pearson were handed the keys to the city today.
Arriving in separate Cadillacs, Grand Slam tournament-winning Stosur and world champion hurdler Pearson were welcomed by a large crowd, who had set up tents and laid out rugs in front of the stage at Broadwater Parklands to catch all the action.
Those not able to make the civic ceremony didn't miss out, with all local media outlets covering the event. Gold Coast radio stations broadcasted from the ceremony, while Channel 9 showed it live on television.
Premier Anna Bligh used the occasion to announce Sam Stosur will be playing in the Brisbane International in 2012, alongside fellow Gold Coaster Bernard Tomic.
"Having Queensland's newest champion compete on home turf is a sign the tournament is shaping up to be one of the hottest competitions for the world's best tennis stars," Ms Bligh said.
"Queenslanders love their tennis and will no doubt be making their way to the Queensland Tennis Centre in droves next year to watch Sam in action at the State's premier tennis event.
"This is fantastic news for local fans who will get the chance to see their home grown sporting hero in action."
Mayor Ron Clarke presented Stosur with the keys to the city, telling the crowd we "breed them well" here on the Gold Coast.
Stosur told the crowd she's been overwhelmed by the response from Gold Coasters and the turnout to today's event.
The crowd also let out a huge birthday cheer for Sally Pearson, who turns 25 today.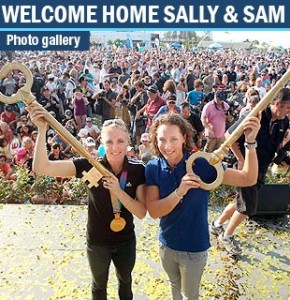 Source: http://www.goldcoast.com.au/article/2011/09/19/350651_gold-coast-lead-story.html