Philly Hawks Grand Final Party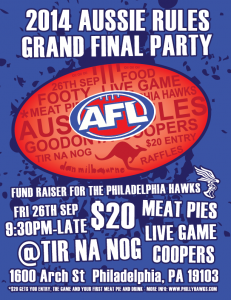 It's that time of year again folks. It's down to 2 teams to battle it out at the G, Sydney Swans v Hawthorn Hawks in what promises to be a ripper of a game. Here in Philly, our own Hawks are hosting a Grand Final party this year at Tir Na Nog (1600 Arch St) kicking off at 9:30pm to about 3:30am on Friday 26th September. TV coverage starts at 11 and there will be a selection of goodies including Meat Pies and Coopers.
Head over to their Facebook invite to tell them you'll be going or just rock up.
At the expense of appearing biased, carn the Swannies!