Perth, WA to Reading, PA – Reading Phillies Catcher Kennelly
Life on the road, away from home – such is the life for any minor league player.
To grow up on the west coast and play on the east isn't uncommon at all.
But to be halfway around the world, always away from family? It's something Tim Kennelly has been doing for the better part of six years.
The Perth, Australia native was signed by the Philadelphia Phillies and moved to the United States in 2005 to play professional baseball as an 18-year-old kid. Kennelly spent four years playing in the Phillies' minor league system before making his first Double-A appearance in 2009 with Reading and playing in 37 games.
The catcher spent all of 2010 with Clearwater, hitting .274 in 115 games with the Threshers. This year, he's spent the entire 2011 season with Reading and is hitting .182 in limited action as a back up to catcher Tuffy Gosewisch.
Now 24, Kennelly has adjusted to the big move and the many months spent away from home on the west coast of Australia, which he visits during the offseason.
"I get used to it now, but it was tough when I first made the move," Kennelly said. "To be 18 years old and to make that commitment wasn't easy."
Seven years ago, Skype, a voice and video chat application that allows people to communicate for free through the Internet, was barely off the ground. Communication with his family was limited and much more difficult back then. Fortunately for Kennelly, a few of his friends also came over with minor league deals, making the transition a bit smoother.
Now, through incredible advancements involving the Internet, Kennelly is just a click away from friends and family back home in Australia.
"I'll speak with my immediate family maybe once or twice a week through Skype," Kennelly said. "It's just a great tool, it's terrific. I keep up with a lot of friends through Facebook. Maybe I'll have the occasional phone conversation.
"It's a luxury compared to how it was when I first came over."
The traveling is nothing new for the Kennelly family. Kennelly's father played professional golf and traveled much of his career. Kennelly's brother, Matthew, plays for the Double-A Mississippi Braves in the Southern League. At this point, it's almost family tradition.
"I definitely come from a big sporting family," Kennelly said. "My dad played golf, and I'm one of five boys, who all play sports. Sporting plays a big role in our family.
"That probably made it easier for me to make this move over here. It wasn't like this was something that was so new to my family. It started with my father, and it's gone on throughout our family."
Kennelly's professional skills lie in baseball, but he was also a committed Aussie Rules Football competitor back in his homeland. Eventually he had to give up either baseball or football.
"Yeah, it was tough giving up football," Kennelly said. "But I usually get to see some preseason games before I come to the States for the season. Sometimes I get to see the final if I make it home in time after the baseball season ends."
Those are the times when Kennelly can finally scrap the Skype and Facebook, and see his family and friends back in his coastal home town.
"My family is really what I miss most about Australia when I'm gone," Kennelly said. "I look forward the most to hanging out on the beach with family and friends. And catching a little Aussie Rules when I can."
Playing baseball halfway around the world, away from your family, has its difficulties, surely. But to Kennelly it's all part of the decision he made on his own.
"I chose this," Kennelly said. "When you choose to play professional baseball, the ultimate goal is the major leagues in the States. I knew that and my family knew that. So everything I do when I make this commitment has to revolve around baseball and my future, because that's what I've chosen."
Entering his seventh season, Kennelly believes the major leagues are still within his grasp.
"I've slowly moved up, and I'm still just 24," Kennelly said. "I've never set a timetable for myself as far as needing to reach a certain point by a certain age. When I feel like I can't do any better, or go any higher, that's when I'll call it quits."
And return to Australia – to family, friends, sunshine and some Aussie football.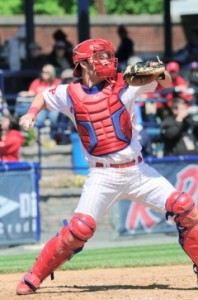 Source http://republicanherald.com/sports/from-a-land-down-under-1.1170274