Local companies can explore global trade
Homegrown Delaware County companies can learn about opportunities in the global market — from Brazil to China — at a special trade event Sept. 23 at the Ellis Preserve in Newtown Square.
County Council and the County Commerce Center announced that a sister economic development program, the World Trade Center of Greater Philadelphia (WTCGP), will host the event where local business owners can meet one-on-one with international trade representatives from various markets, including China, England, Australia, Brazil, Canada and other nations.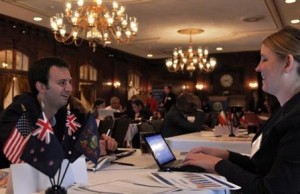 The Ellis Preserve event is part of Pennsylvania International Week (PIW), two days of meetings and events in Philadelphia, followed by the Sept. 23 event at the Ellis Preserve corporate center, 3805 West Chester Pike. The event is free; meetings are by appointment.
The goal of the PIW is to help local companies tap into international markets.
"This is a great opportunity for Delaware County businesses to expand into international markets," said County Council Member Tom McGarrigle, a small business owner from Springfield. "Local companies might not have considered exporting their product overseas, but at this event they can meet with international trade representatives who can help them get started."
Two Delaware County companies can attest to the value of tapping into international markets with the help of the World Trade Center program.
"Meeting with the authorized international trade representatives during PIW is really the first step into a new global market," said Josh Fishbein, international account executive at Penguin Brands in Sharon Hill, a local company known for shoe care products and performance gear.
"Last year I was able to meet with a number of different country representatives and their insight helped me to plan our international approach for the new calendar year," Fishbein said.
Dr. Lavern D. Wedeven, president of Wedeven Associates in Edgmont, said the trade meetings are an "incredible opportunity" for companies who are looking to begin exporting, or who want to take the next step to expand existing export operations.
"On a recent trip to China, we were able to meet with the Pennsylvania authorized trade representative in Beijing and reviewed the market opportunities there and learned about the Chinese business culture," said Wedeven, whose company solves problems associated with the "tribology" of mechanical systems. "The authorized trade rep set up meetings, advised on proper protocol, and helped ensure that I was prepared so my sales meetings were successful."
Patrick Killian, Director of the Delaware County Commerce Center, said local companies are assisted through a teamwork effort by his office, the WTCGP and Pennsylvania's Department of Community and Economic Development. He said the state program has an aggressive international marketing program and a comprehensive export assistance program that local companies can tap into.
WTCGP is the point of contact for Delaware County companies who would like to access the resources of the export assistance program, such as identifying overseas partners, in-country trade assistance and logistical support.
The program at Ellis Preserve is free and open to Delaware County businesses. For information or appointment times call Ron Drozd at 215-586-4240, ext. 122, or email to rdrozd@wtc.phila.org. For information about the World Trade Center of Greater Philadelphia visit www.wtcphila.org. For information about the Delaware County Commerce Center visit www.delcopa.org.
Source: http://www.delconewsnetwork.com/articles/2011/09/20/media_town_talk/news/doc4e790973bd24b020343703.txt?viewmode=fullstory