Australia Day 2011 T-Shirts!!!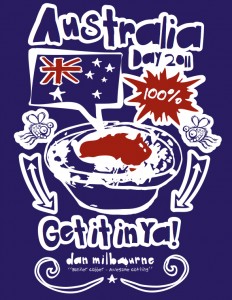 New design is here! Follow the links and get your very own Australia Day 2011 Dan Milbourne design t-shirt! Visit http://www.danmilbourne.com/ and purchase one today, while stocks last.
Don't know who Dan Milbourne is? Let's ask him…

Since 2001, I've has been specialising in areas such as Apparel (Clothing) Design, Web Design, Graphic Design and Illustration.

My situation is pretty "sweet". Being an Aussie, who moved to the USA in 2003. My travel habits have landed me a variety of clients from all over the globe.

My designs are gritty & organic. My goal is to share a little bit of home with the rest of the world. If you've been, know someone or are itching to find out more about the Land Downununder. Then you've come to the right place.
Enjoy and be sure to support your local.